Commercial and Industrial Air Duct Cleaning in Minneapolis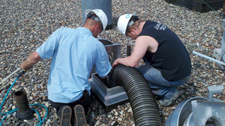 At Alpha Air Corporation, we're passionate about the air quality of your commercial or industrial building in the surrounding Minneapolis area. We have over 30 years of experience in commercial air duct cleaning and our technicians are certified by the National Air Duct Cleaners Association. We offer a whole range of residential, commercial and industrial air duct cleaning services throughout the Minneapolis area.
Our NADCA certified technicians can perform exhaust duct cleaning, mold remediation, fire restoration, bathroom duct cleaning and more.
Decontamination Services in Minneapolis
When you need the air ducts cleaned at your commercial or industrial building in Minneapolis, Alpha Air Corporation is the company to call. Our expert technicians have many years of experience offering air conditioning, heating, and duct cleaning to businesses throughout the Minneapolis area. Our HVAC decontamination process is incredibly thorough. Give us a call today!
A dirty or unpleasant smelling HVAC system can be the kiss of death for any business in the Minneapolis area. Make sure that your customers, tenants and employees are comfortable in your commercial or industrial building. With HVAC sanitization and deodorizing services from Alpha Air Corporation, you can make sure that your ducts are not teeming with bacteria, dust mites and other allergens that can cause odors and discomfort.
Mold & Fire Restoration in Minneapolis
Mold is a huge problem for any commercial or industrial business. When you need mold removal and remediation services in the Minneapolis area, contact the certified technicians at Alpha Air Corporation. We have years of experience offering mold removal services throughout Minneapolis areas.
If your commercial or industrial building in Minneapolis has recently suffered damage from fire, then you most likely need fire restoration services for the ductwork in your business. The smoke from a fire can slowly drift through the ductwork in your building and deposit harmful ash and soot. Without proper commercial duct cleaning services, those substances could still be circulating through your business.
Other Commercial Air Duct Services in Minneapolis
With commercial and industrial HVAC systems, changing the filters can be a huge and complicated task. That's why Alpha Air Corporation offers complete filter changing services for commercial and industrial businesses throughout the Minneapolis area. Regularly changing filters is critical to the health of your HVAC system. Call the professionals at Alpha Air Corporation today.