Reviews
Technicians were courteous, friendly, and knowledgeable. Arrived at home on time and went right to work. We were very satisfied with their work. Thanks!

- Barbara G.
Very satisfied. Thank you.

- Amy S.
The service was fun and exceptional!

- Greg B.
The fellas were wonderful, explained everything to us. Left our home spotless, would highly recommend them!

- Deb R.
Informative. Nice. Helpful. Courteous. Honest.

- Steve B.
Troy has been here 4 times over the last 3 years he is very professional and does an excellent job! That is why as a masonry contractor I refer my customers to this company.

- Bruce M.
Very professional. Showed me what they were seeing and made recommendations for safe use.

- Steven W.
Staff was friendly, knowledgeable, and patient.

- Alison M.
From the initial phone call to set-up the appointment; to the Service Technicians, each employee did a fantastic job! All were most helpful,professional, informative, and courteous---Thank you!!

- Elizabeth A.
They did a great job! The whole process was very clean and they were very helpful in describing the damage to our chimney.
Thanks!!!

- Nancy F.
The guy who came out was very patient with all my questions.

- Vickie V.
Tyler and Troy did a great job cleaning the dryer vent. They even added a nice gesture of blowing away the autumn leaves that accumulated on my porch. Very professional and thorough service.

- Kathleen M.
Our technician was friendly and professional. He made sure we understood everything clearly.

- Jessica W.
Excellent Service and super friendly and efficient.

- Susie O.
Extremely please with service. The cleaners were polite, professional and on time. They worked efficiently and cleaned up after they were done. Thank You.

- Joe K.
Excellent. Professional.

- Cheryl F.
Always been a good experience. Very good people to work with.

- Gary T.
On time and done right. As soon as I knew I was moving, I booked them for my next home!

- Denise P.
The workman were on time and did a great job!!

- Larry T.
Today was our 3rd experience with 2nd Generation Chimneys, Inc./Alpha Air Corp. and it was just as great as the first 2 times. Troy has been our guy all 3 times and he is so nice to work with. He answers all of my questions and is very professional. He gets right to work, is quick and cleans up everything when he is done. Today he and Tyler had to remove a live bat from our fireplace in our family room and it was a real treat for my boys to watch Troy and Tyler work together to get it out! We will continue to call 2nd Generation/Alpha Air for all the services they provide. Thank you for your great work and customer service!

- Carrie S.
I was impressed on how your Technician called me with the results and the complete and thoroughness of the report.

- Russell A.
The service tech was very nice, kept the area working around clean, and explained to me what he was looking for while inspecting the chimney.

- Jean W.
Outstanding. Clean. Efficient. Top notch.

- Jim K.
I had both of my chimney flues and my dryer vent cleaned & the job that was done was great. Very thorough and showed me what he was doing and why. Very happy.

- Mary J.
The techs were on time, very personable and very professional. They took the time to listen to my concerns, and were great at explaining to me at what they were doing, and what they were looking for, and their findings. I would definately use this complany again and would not hesitate in recommending them to friends and family.

- Kathryn P.
Very Friendly and courteous staff. Quick dispatch and through professional service.

- Jeff J.
Very professional. Good job done. Problem resolved.

- George M.
David was very helpful and took the time to explain everything.

- Dean N.
Very easy to work with.

- Brian O.
Great job. The technician was very friendly and clean. He explained everything very well.

- Kim B.
The tech that came out was very professional, on-time and neat. He provided great answers for the questions that I had and I felt he completed everything that we asked was completed. Would definitely refer them in the future.

- Drew G.
Outstanding service, thorough explanation of what was going on inside the firebox and chimney, and clear, easy-to-understand recommendations. I learned quite a bit about my particular fireplace and stove in this one visit. Will absolutely recommend to others!

- Drew H.
We have had you come out to both of our homes and you have always done a great job. We appreciate how knowledgeable and professional you are. Thanks for the great recommendation for the liquid fire-starter. It works great.

- Dave M.
I was very impressed by the young man who cleaned my dryer ducts. Should I need duct cleaning in the future, I will certainly contact you again. Thanks!

- Donna C.
I found your service very pleasant and accommodating as we are in AZ and it was our rental. They responded quickly and billed our card.

- Elizabeth B.
I was thrilled with the technician and the service. I didn't feel pressured to purchase a service or product that I didn't need. The technician was thorough, professional, and patient with me as I asked questions. I'll definitely be using them again in the future!

- Luke N.
David was very knowledgable, helpful and professional. I would highly recommend them. Thank you for the great service.

- Gina F.
The day my damper was to be installed, I was given a window of time - - as the end of the window approached, I recieved a phone call from the installer. He was VERY apologetic that he was running late but stated he would be there in 45 minutes. When he arrived, he once again apologized and offered a discount on the services for the inconvenience. Originally he stated that it would take approximately 45 minutes to install as he knew I was on a timeline. He completed the work in 20 minutes. He was very friendly, courteous and neat. I was thrilled with the service and would HIGHLY recommend them in the future!

- Joel B.
The fellows doing the work were very considerate and professional. I would recommend them to everyone.

- Arlene O.
The technician was prompt and professional and cleaned up after himself. He provided all the documentation I needed for the city and answered questions knowledgeably. I would use them again.

- Mary Suzanne W.
My experience was very good! No problems at all! The person that did the work was very professional!

- Susi G.
The service person was very considerate and careful with our home and equipment. He did an excellent job and I would highly recommend your company to my family and friends. Thank you!

- Rick and Renee N.
Your representative could not have been nicer, more informative and honest. He told us that overall the chimney was just plain built slanted and was in no danger of falling or anything of the sorts, was just plain built wrong.

He said it could use cosmetic work to fill in missing mortar and all and gave us rough estimate for that worst case scenario. He said it was built that way 83 years ago, has stood for 83 years and most likely would still be looking the same in 83 more years.

A great guy all the way around. He ended by saying that he would love the work, but in all honesty seeing we are going to sell the place, he recommended to not waste the expense on what would be purely cosmetic and not a structural issue in any way whatsoever.

He was very honest and a tribute to your company. We could not have asked for more in a situation like we were in to feel relieved and comfortable as we ready to list our home for sale.

We asked about having chimney work on our Isanti farm we bought to add a wood stove and said your company overall does not work with new installs and even recommended a company you work with instead from up in that area.

So just could not ask for more. Wish all contacts with companies were as honest and caring about us, and not just drumming up business for the sake of business. We were impressed and have told all our friends and the realtor who suggested you as much.

Seeing we are now in Isanti and you in Bethel, if we ever need any services you supply at our new home, we can gaurantee you will be the first place we call.

Thnx!!

- Rick J.
Wonderful service- job well done!

- Richard G.
Courteous service and nice to work with and educated us on our chimney/fireplace while doing a great job. Will definitely have them back next year.

- Shane S.
Troy was really great and he did a splendid job. He has a very nice, pleasing and accommodating personality. Experience as a whole starting with communication with Lisa to getting (the fireplace) cleaned with Troy was really very good. Both Lisa and Troy were very understanding of needs and paid attention to details like the time that I wanted work to start and once they started, respected the fact that we have a baby and a clean house. Thanks for your professionalism!

- Subhash K.
Excellent in every respect, from the initial estimate through completion of the job. I especially appreciated the clear, prompt, and courteous communications, the responsible follow-up—they do what.

- Gary T.
The person performing the service was very courteous, quick, and complete. He was able to come earlier than scheduled, so he called to ensure that would fit into my schedule.

- Edith R.
Beyond our expectations! We had a couple awnings that were covered with tree residue. The burgundy awnings looked GREEN from all the build-up. After the job was completed, they look new and fresh again!

- Laurie P.
Thank you for conducting the inspection of a house we are planning to buy. You were able to accommodate our tight schedule; the inspector was on time, thorough, and educated us; and we had the report within a few hours. Thank you for all of your help.

- Maureen M.
Very prompt in doing the work at my mother's house for us. Polite, professional, knowledgeable, and efficient. Great at answering our questions and addressing our concerns.

- Julien P.
This is a great company, honest and reliable!

- Anoka-Andover Chiropractic
Overall great experience. Quick to respond, on-time and high quality work.

- Margaret R.
I really liked the guy who worked on my chimney. He gave me lots of options. I like the weekend hours.

- Adam F.
The person who provided the chimney cleaning and inspection was excellent. He was thorough and took the time to explain what needed to be done to repair the chimneys. I was very impressed.

- Laura B.
We were really impressed with the professionalism of our technician and the quality of the job he did.

- Eric M.
These guys are great!

- Keith B.
Professional and reasonably priced.

- Darin B.
From start to finish everything was superbly done. I would highly recommend your firm.

- Thomas H.
I have had my chimney cleaned many times in the past. Usually left in the dust by an inexperienced chimney sweep. This year I decided to try your company and was very impressed. Not only did the technician not make a mess, he took his time to do a through cleaning. I never seen so much soot come out before. It makes me wonder what I have been paying for with these other companies, anyways thank you for doing such a great job.

- Jeff C.
After having a chimney fire, we were referred to your company to have our chimney inspected. Your technician came out to our home and was able to quickly determine the extent of the damage and provided us with an estimate. After our claim was approved by our insurance company, within a few weeks our chimney was not only repaired, but working better than it ever has! No more smoke detectors going off when I start a fire! "We would recommend them to any of our friends.

- Roy and Paula H.
We live in a small townhome and recently had one of your technicians clean our furnace and ducts. WOW! What a difference in the air quality in our home! I never knew how dirty ducts could get. Your technician was exceptionally professional and took his time making sure not to miss anything. He explained the process very well and was able to answer all of our questions. We just wanted to thank you for doing a top notch job.

- Jason and Jennifer J.
When Alpha Air Corporation first visited our facility, a thorough examination was made of the HVAC roof units (on an extremely cold day in January), each area within the building, and several ceiling vents. The original proposal missed the 4 restroom exhaust vents/ducts, but they quickly revised it and sent out the correct one. Communication was excellent throughout the entire process. We received reminders close to the appointment. They prepared us to have the smoke detectors in test mode to avoid setting off the fire alarm. During the two-day process of cleaning our air ducts, the technicians were very professional and did "what they said they would do" for us. They took the time to answer my questions and showed me examples of heavily contaminated ducts. Alpha Air also took before and after pictures that have been shared with Ottobock management. I was very pleased with the end result and recommend you give them a call.

- Julie S., Ottobock
Dave and Troy did a fantastic job cleaning our air ducts! Our maintenance team (FaciliTech) suggested having this service performed. After the cleaning process, the maintenance crew noted the interior of the ducts were now visibly clean. We then set up an appointment to have our home's air ducts cleaned as well which speaks to the confidence we have in Alpha Air.

- Green Mill
We recently had Alpha Air Corp. to our business to clean out our ductwork. You did a great job and the place never smelled so fresh.

- National Karate
Recently, we had our ducts and air handlers cleaned in our building by Alpha Air. After calling several companies for estimates, we decided to go with you due to your professionalism and price. Your office staff was more than helpful in scheduling to our convenience. Your crew thoroughly cleaned out our systems and was more than happy to show our maintenance supervisor the finished result.

- Charter Communications
Thank you for an excellent job on the cleaning of our ventilation system. Troy was very thorough and knowledgeable in answering all of our questions.

- YMCA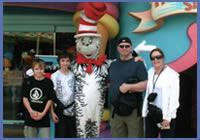 "We wanted to thank you for the work that was done in our home. Your technician Troy did a great job. The vents which had been caked with sheetrock dust from when our house was built 14 years ago are now clean. We felt comfortable with Troy, and that's important when you open your home to someone who you do not know. We waited far too long to have this done, and hope that others will see your ad and take care of the infrastructure within the most valuable asset that we have….our homes."

- Nei Family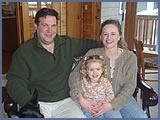 "I want to let you know that your service tech, Troy came to my home yesterday, 12-11-2010, in a major blizzard! I couldn't believe that he made it here at all; much less just slightly past the quoted time. I wanted to let you know that he was very professional and dedicated and he did a great job on our furnace and vents. Please take good care of him as your employee– he's really commited and good at his job. In this day and age, that is a treasure for any business. Please thank him for such great service and we hope all of you have a very Merry Christmas."

- The Warneke's

"We had Alpha Air clean our furnace ducts. They were prompt, courteous, and did a thorough job. We will certainly have them back and recommend them highly for furnace duct cleaning. Also, tell your service technician (Jake) that we really appreciate the extra time he took showing us before and after pics with that fancy video camera!"

- Bob and Sandy K.

"We live in a small townhome and recently had Jake clean our furnace and ducts. WOW! What a difference in the air quality in our home! I never knew how dirty ducts could get. Jake was exceptionally professional and took his time making sure not to miss anything. He explained the process very well and was able to answer all of our questions. We just wanted to thank Alpha Air for doing a top notch job."

Thanks,

- Jason and Jennifer J.