Residential Duct Cleaning Services in Minneapolis by Alpha Air Corporation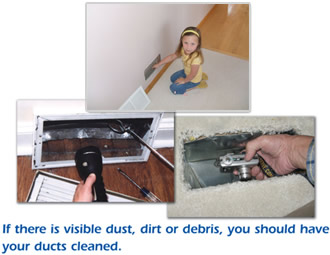 For over a decade, Alpha Air Corporation has been a proud provider of residential air duct cleaning services throughout the Minneapolis area. We offer HVAC sanitizing and deodorizing services, mold remediation services and fire restoration services. The ductwork in your home is critical to the proper operation of your heating and air conditioning system. Have you ever thought about what could be inside your ductwork? As the air from your furnace or AC unit passes through the ductwork, it carries with it particles of whatever it happens to touch along the way. If you've never had your air ducts serviced, your indoor air quality could potentially be suffering.
Why Air Duct Cleaning in Minneapolis is Important
Over time, your ducts can become clogged with mold, hair, dust, dirt and even left–over pieces of wood and metal from construction. Having the vents, air ducts and exhaust ducts in your home cleaned regularly is an important part of household maintenance. There are a number of terrific benefits to air duct cleaning. Here are just a few of them.
Reduced allergens — Your air ducts are a great place for allergens like mold spores, pet dander, pollen and mold spores to gather. When you have your air ducts decontaminated and sanitized, it removes these allergens from your air supply. This has the potential reduce the negative effects of allergy season.
Reduced bacteria and mold — Biological contaminants in your air supply love to live in dark, moisture–rich environments like your ductwork. With an almost constant supply of temperature–regulated air and moisture from humidifiers, showers and condensing coils, mold has everything it needs to grow. With regular air duct cleaning services from Alpha Air Corporation, you may be able to reduce the amount of mold and bacteria growing in your ducts.
HVAC Sanitizing and Deodorizing Services in Minneapolis
One of the main air duct cleaning services that we offer in the Minneapolis area is HVAC sanitizing and deodorizing. We all want to live in a comfortable home with fresh air. With proper and regular air duct cleaning from Alpha Air Corporation, you will get to experience that. Using video camera inspections, power cleaning equipment and a safe sanitizing agent, our certified technicians will make sure that your ductwork is as clean as possible.
Mold Remediation in Minneapolis
Mold is a huge problem for many homeowners in the Minneapolis area. Not only can mold aggravate allergies, but it can also be toxic in elevated levels. Alpha Air Corporation offers complete mold remediation services for your ventilation system. Not only do we remove the existing mold; we also look for the source of the mold to keep it from coming back.
Fire Restoration in Minneapolis
Fires are devastating to any home in the Minneapolis area. But once it has been put out, it's time to start restoring your home. At Alpha Air Corporation, we provide friendly and sensitive fire restoration services throughout the Minneapolis area.
What Is Included with Alpha Air Corporation's Air Duct Cleaning Services in Minneapolis
When you work with Alpha Air Corporation, you work with certified and highly trained duct cleaning technicians. As a family–owned business, we know how important the health of our family members is. That's why we are committed to the quality of our work and to your comfort inside your home. During our air duct cleaning services we will inspect the follow areas:
Bathroom exhaust fans
Furnace and air conditioning coils
Grills
Blowers
Heat exchanger
Air filtering equipment and more
In order to properly clean your ductwork, holes need to be cut in the ducts. Other companies will cut a 1–inch hole in your ducts and use a shop vacuum. At Alpha Air Corporation we cut 12"x12" holes every 15 feet in your ducts. This is to accommodate our high pressure vacuums and power cleaning tools. When we're finished, we seal up the holes with guaranteed air–tight access panels.
The Alpha Air Corporation Cleaning Agent
Some people in Minneapolis are hesitant to have their ducts cleaned because they are concerned about the chemicals used during the decontamination and sanitization process. At Alpha Air Corporation, we would never put anything into your ducts that would harm your family or your property. Here is some information about the characteristics of our sanitizing agent.
No active chemical residue or volatile compounds left behind
Tested and effective against large variety of microorganisms
Low toxicity rating from EPA (Category III)
Gets rid of odors instead of just covering them up
Useful for: heating and AC ductwork, fire restoration, water/flood damage, medical and school facilities, food processing plants.
Call the expert duct cleaning technicians at Alpha Air Corporation today. We've been in the duct cleaning business for over a decade. We can handle any duct cleaning need that you might have.
Alpha Air Corporation provides residential duct cleaning services to the surrounding Minneapolis area. Contact us today to speak with one of our specialists who can answer all of your questions about air duct cleaning, and schedule your next service appointment with us.